Managed Websites feature: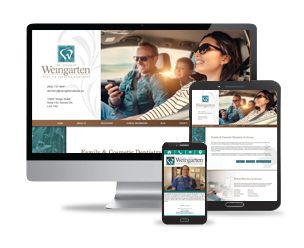 Personalized design to reflect your brand and office
Mobile-optimized layout
Calls-to-action for patients to Request an Appointment, Subscribe to your Newsletter and Ask a Question
Evolving library of patient-friendly articles, personalized for your practice
Healthcare industry best practices
Search Engine Optimization (SEO) to ensure your practice is found by potential patients on Google and other search engines
Online Forms
Unlimited updates!
With over 15 years of experience in healthcare marketing, UpOnline knows what drives patient engagement & appointment requests, how to best communicate services, and provides an easy-to-navigate website that reflects the experience in your office and increases patient engagement.
UpOnline's experienced team of developers works with you to create a website that promotes your dental office, your team, and the quality service your practice provides. Every site we build is custom made - we do not use cookie-cutter templates.
Our websites are clear, concise and informative. Whether you define yourself as a family practice, a specialist, cater to cosmetic services, patients with dental anxiety, or emphasize restorative & same-day procedures, UpOnline will create a website that is user-friendly, visually appealing, and acts as an online extension of your office.
Take advantage of our years of experience in web design aimed at helping dental offices like yours.
Take your practice UpOnline!
Learn more from our blogs: