Story:
Doncaster Dental Studio is a general and cosmetic dental office located in Thornhill, ON. The practice had recently been rebranded (formerly called Emerald Dental Care), so they needed to promote their brand and presence in the community. They came to us to quickly gain new patients and re-establish the practice.
Solution:
UpOnline highlighted Google Ads as a relatively quick and cost-effective way to get new patients in the door and become known in the local Thornhill area. Doncaster Dental Studio knew that this was a valuable potential source of new patients so they were eager to take advantage of it quickly.
To start, we identified a few services that were in demand and likely to get Doncaster Dental Studio the highest reach and conversion numbers. Based on this assessment, separate landing pages were created for each service (including implants, Invisalign, general dentistry, and cosmetic dentistry) to optimize the experience for the visitors who click on the ads, thereby increasing the likelihood of conversions. A sample landing page is shown below. Some key components include an on-page trackable and persistent form to book an appointment, tracking phone number, valuable information about why potential patients should choose Doncaster Dental Studio, key benefits about the service of interest, a biography of the dentist, and a special offer for new patients.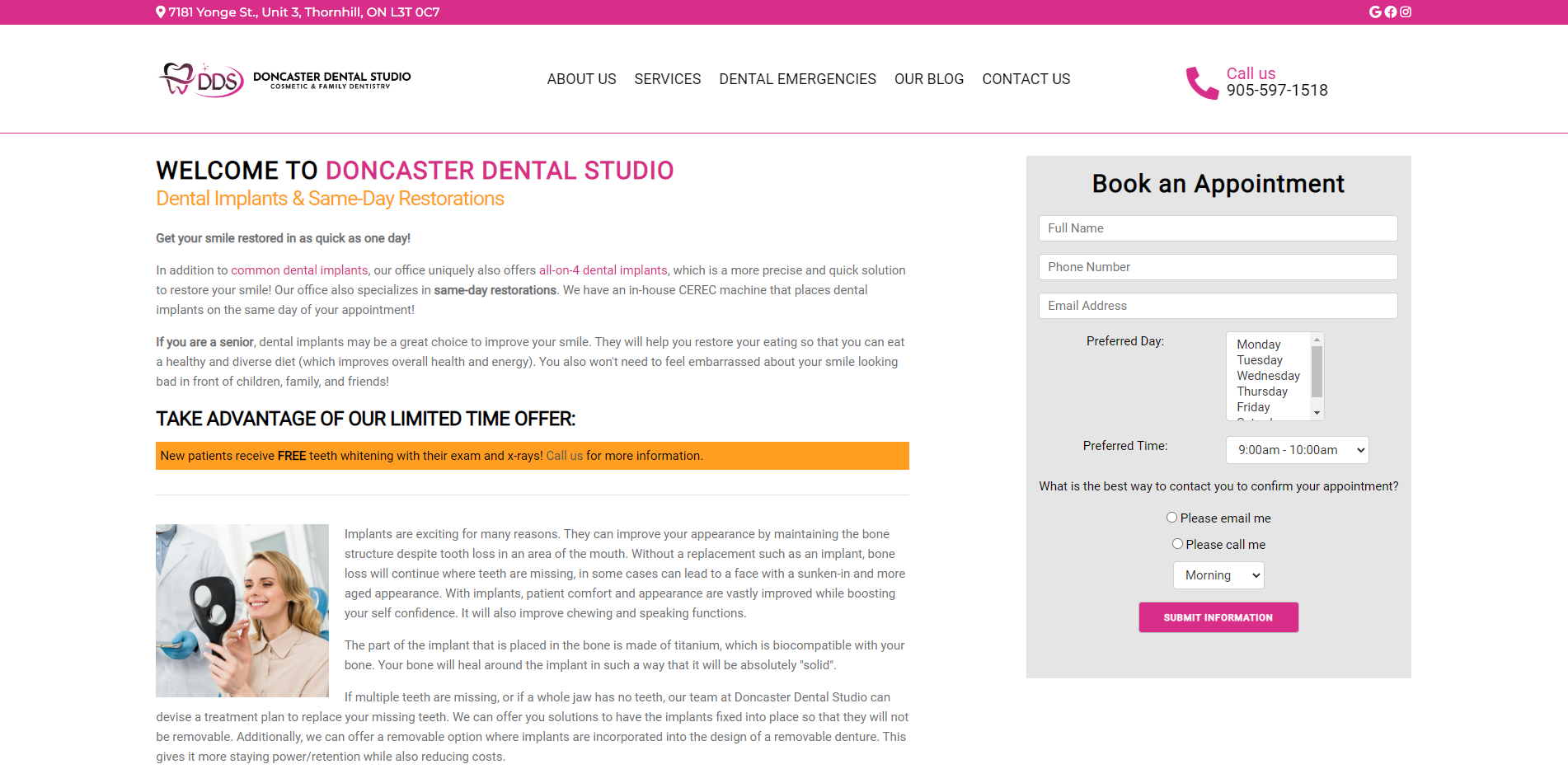 UpOnline also worked with the dental office to identify potential competitors to ensure clicks were generated by potential patients for their own practice. These other practices were often added to the list of negative keywords (keywords for which the ad does not show), ensuring that their budget was not wasted on visitors searching for other dental offices specifically. Keywords that the office already ranked high on organic search results, such as the dentist's name or the dental office's name, were also added as negative keywords to further optimize the budget.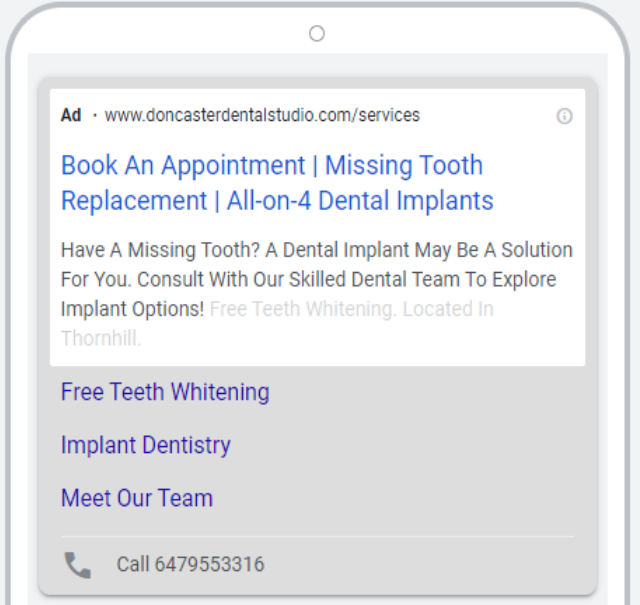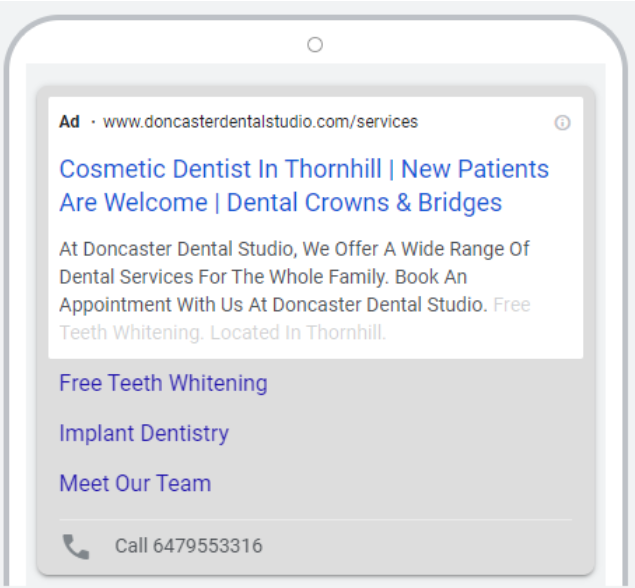 At expected intervals, we learned more about how different ad groups were performing and continuously optimized the ads' headlines, descriptions, search keywords, and negative keywords.
Shortly after launching, we implemented call tracking for calls coming from ad visits. This allowed both UpOnline and Doncaster Dental Studio to know key details about callers originating from the ads, including call location and call duration, and most importantly, allowed the dental office to flag incoming ad calls in real-time and call back missed calls.
The information gathered from call tracking allowed for even better ad optimization. For example, if a few callers were calling to inquire about a dentist from another practice, that dentist and their practice could quickly be added to the ad campaign's negative keywords list. Doncaster Dental Studio also opted to set up call recording (callers were prompted that the call was being recorded). This allowed us to listen to the calls, consider specific accommodations or pain points that callers mentioned, and optimize the practice's ads accordingly.
UpOnline provides all key information to Doncaster Dental Studio in a simple and easy-to-follow report, as seen below.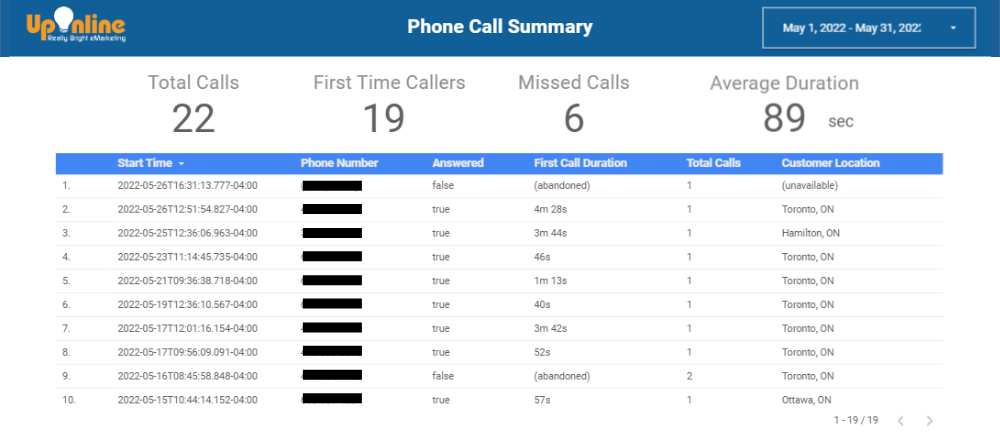 Results:
After just a few months of running Google Ads, Doncaster Dental Studio was receiving over 10 leads per month, with a cost per acquisition (CPA) of under $120 (assuming all leads converted into appointments)! In addition, they had a staggering 8.5% click-thru-rate (CTR) - compared to the industry average of 5.03%, and a cost per click (CPC) of $2.49 - compared to the industry average of $7.10!
Excited about UpOnline's success with paid online advertising and what it can do for your practice? Contact us today to learn more!