Story:
Dr. Harry Weingarten & Associates (Auroratooth Dental) is a family and cosmetic dental office located in Aurora, ON. They came to UpOnline looking to revamp their website and improve their Search Engine Optimization (SEO) to attract more new patients.
The client presented a unique challenge for our team as this dental office is located very close to another office with a similar name and also in a competitive area. After a responsive website revamp in the summer of 2019, Auroratooth Dental's SEO was doing well until a Google core update severely brought down the rankings for most of their keywords to page 5 and beyond.
Solution:
With the responsive website redesign, UpOnline overhauled Auroratooth Dental's content to provide detailed information about the practice and their extensive general and specialized services. The focus was given to local SEO by including "Aurora" in targeted keywords and optimizing the office's Google Business profile to increase the likelihood of the practice showing on Google Maps search results.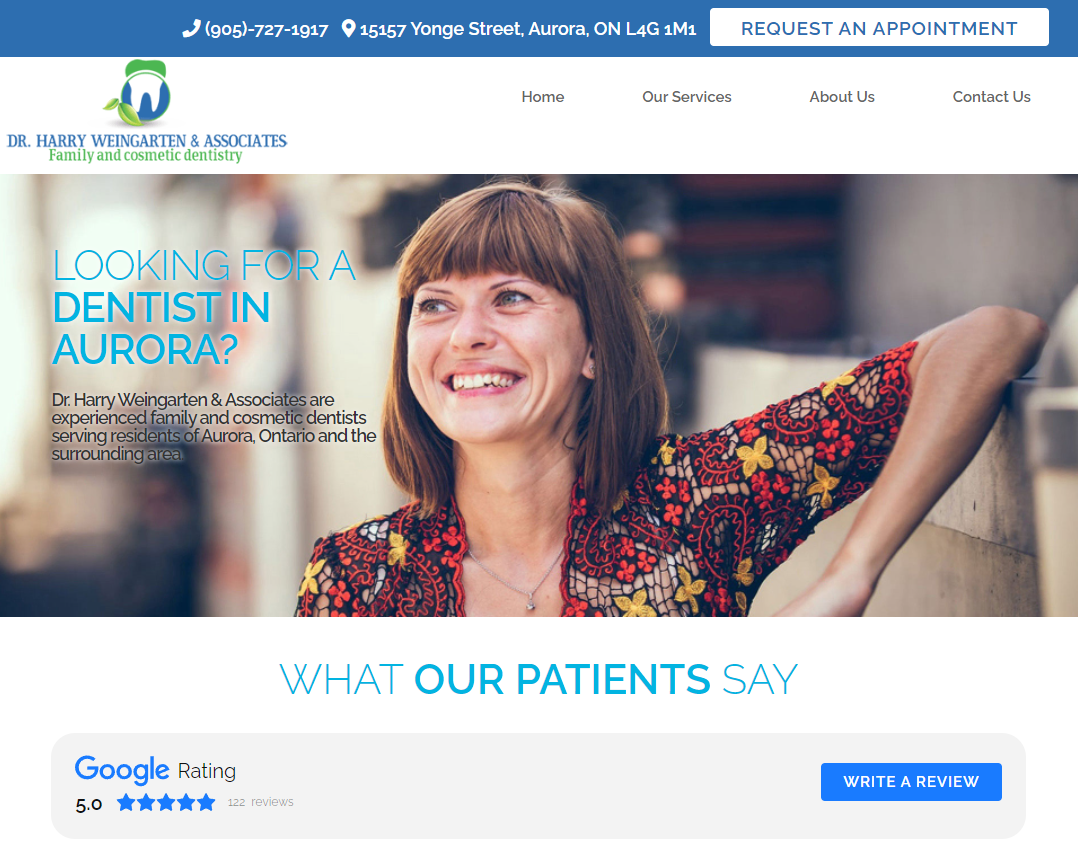 When the July 2019 Google core update severely brought down Auroratooth Dental's SEO results, UpOnline performed a deep review and re-optimization over the next few months and used organic SEO best practices to bring the rankings back up. This included on-page SEO techniques such as rewriting meta titles and descriptions, adding additional alt tags for images, and rewriting content for services pages to include targeted keywords where appropriate.
Additionally, UpOnline optimized off-page SEO to improve the speed and performance of the website. This included reoptimizing all images to reduce file size and improve page load speed, eliminating lengthy or unused coding and fine-tuning the mobile responsiveness of the site.
Before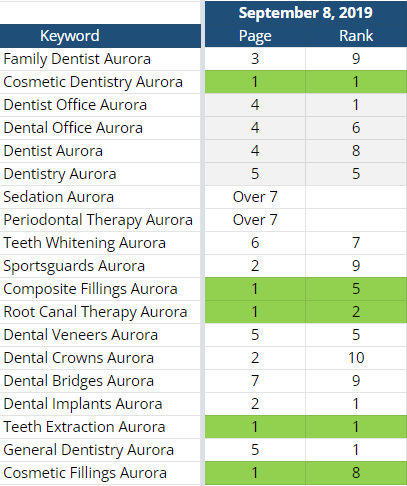 After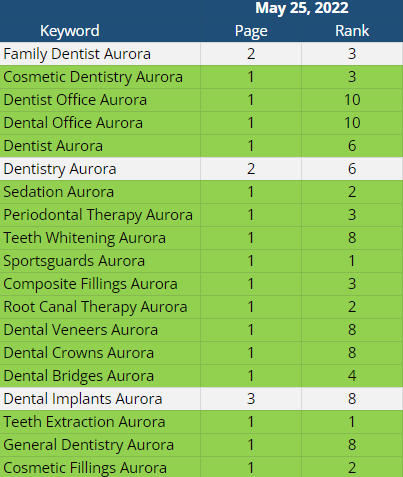 Results:
At the time of the 2019 Google core update, only 5/19 tracked keywords for Auroratooth Dental were on page 1 of search results. The rest were on page 4 or lower.
After UpOnline's deep SEO re-optimization, 16/19 of Auroratooth Dental's keywords are currently on page 1 of search results, and many among them occupy the top 5 spots on page 1.
Because of the COVID-19 pandemic, appointment bookings were generally down for all dental offices. However, thanks to UpOnline's ongoing SEO efforts, appointment bookings for Auroratooth Dental have quickly rebounded to pre-pandemic levels (approximately 5 online appointments recorded per month).